<![if !vml]>

<![endif]>
Having received more than 7 Million Page Views through its online publication, the New Orleans Agenda e-newsletter is the leading local alternative for information on New Orleans and the Gulf Coast Region. A provider of turnkey Web-Based Internet Marketing Services, we specialize in servicing faith-based entities, community groups, professional organizations, and arts & cultural interest and events.
Our subscriber-based users have opted-in to receive our service and are engaged and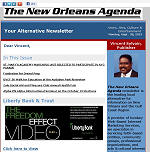 have expressed a willingness to remain informed of the latest news, trends, and public information available. Our team is able to incorporate your branding to this willing group of information consumers.
The New Orleans Agenda also work in a partnership with NOLA Beez and New America Media. NOLA Beez is an online collaboration of ethnic media organizations featuring hyperlocal news content covering the Greater New Orleans Metropolitan Area and the Gulf South Region. A project of New America Media, the NAM Digital Divide Initiative aims to assist ethnic media in improving coverage of their communities and other ethnic groups through citizen journalism and online multimedia development.
The goals of this project are to help community media establish a viable, robust

online presence with trained contributors who produce stories more efficiently and open up lines of communication among and between ethnic and immigrant communities.
Visitors to www.NOLAbeez.org are able to view articles contributed by the following publications representing the regionís demographic diversity; The Louisiana Weekly, El Tiempo New Orleans, Jambalaya News, Louisiana Data News Weekly, Ngoc Lan: The Vietnamese American Association, New Orleans Agenda.com, New Orleans East.com, and NOLA.TV. Other partners include the LSU Manship School of Mass Communication, Xavier University Department of Journalism, and Dillard University School of Mass Communications.
This partnership continues to collaborate on high-impact stories for joint publication. As a result of this collaborative, our clients are able to reach an audience of various backgrounds.
E-Solutions for Your Communication Needs!